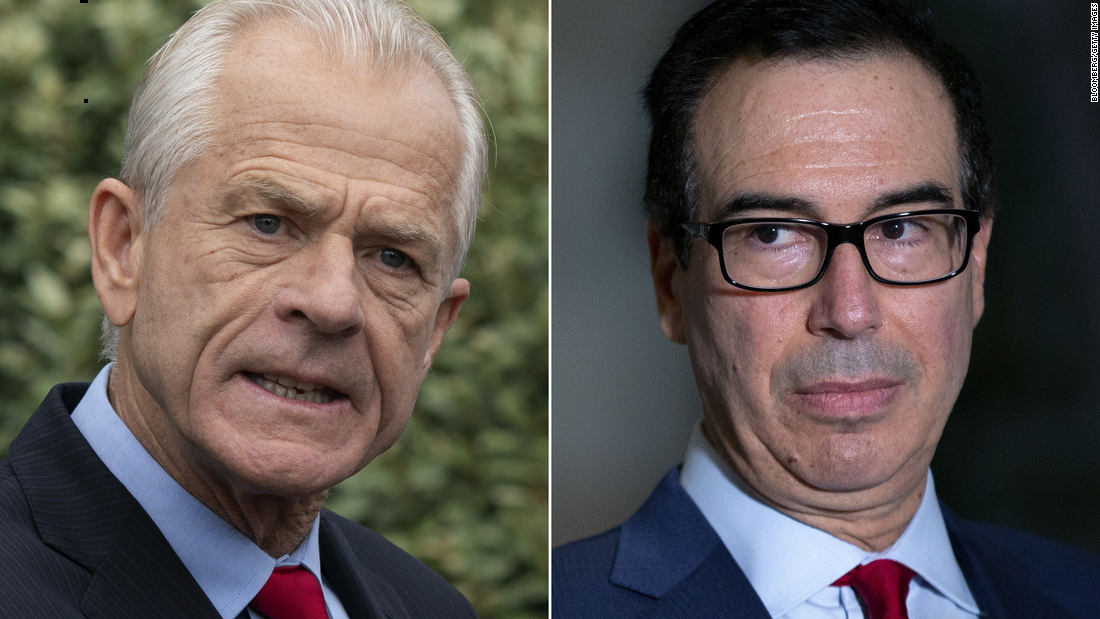 In front of
President Donald Trump
, Mnuchin argued that TikTok should be sold to a US company, while Navarro called for an outright ban of the social media app and accused the Treasury secretary of being soft on China, the Post reported, citing anonymous sources.
One person described the argument to the newspaper as a "'knockdown, drag-out' brawl" between the two Trump advisers.
The argument preceded Trump's decision to sign an
executive order Thursday
banning TikTok from operating in the US in 45 days unless it's sold by its Chinese-owned parent company.
Treasury Department spokesperson Monica Crowley told the Post that the department doesn't comment on the specifics of meetings with the President.
Crowley, however, confirmed to the Post that Mnuchin did participate in a meeting with Trump "to update him on national security recommendations," the paper reported.
"One of the great strengths of the Trump administration is the president's reliance on strong, often opposing views, to reach decisions which are invariably in the best interests of the American people," Navarro said in a statement provided to the Post. "Because this is true, it is critical for a strong America that 'what happens in the Oval Office, should stay in the Oval Office' so I have no comment on what is clearly a malicious leak riddled with hyperbole and misinformation."
CNN has reached out to the Treasury Department and Navarro for comment.
Over the past two weeks, Trump has gone back and forth on the future of TikTok. The Trump administration has accused the app of being a tool for Chinese espionage and data collection, arguing that it gives China access to massive amounts of American user data.
Microsoft said Sunday that it was moving forward with talks to acquire the app following a conversation between CEO Satya Nadella and the President.
"The question is, is Microsoft going to be compromised?" Navarro said.
He suggested that Microsoft should divest its Chinese holdings.
CNN's Nikki Carvajal, Rishi Iyengar, Oliver Effron, Caroline Kelly contributed to this report.