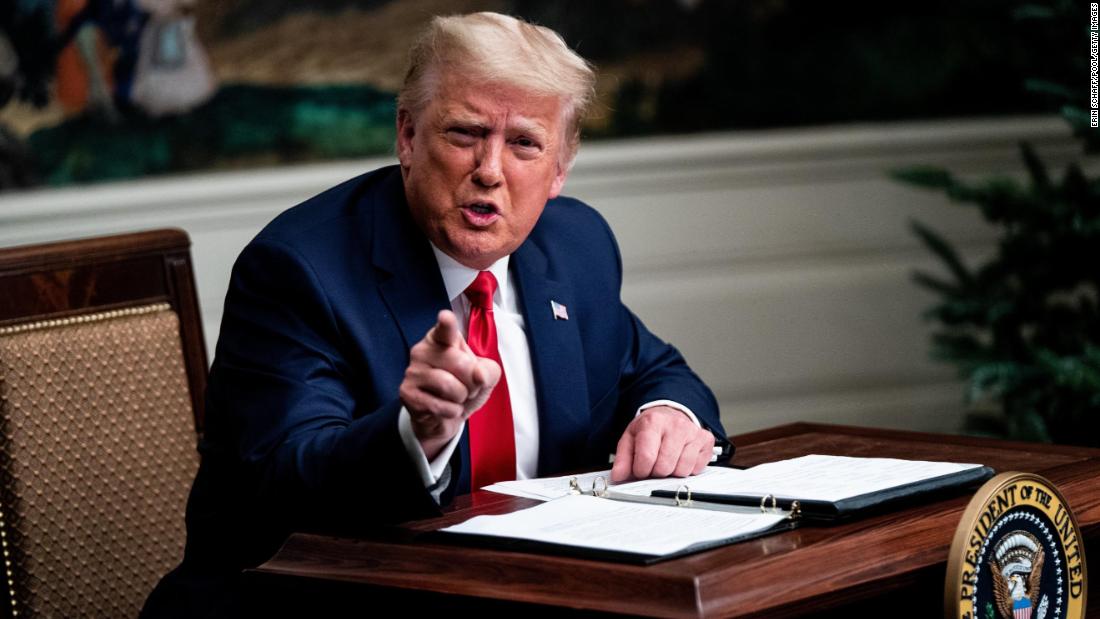 Among the names that Trump and his advisers have discussed as potential pardon recipients, CNN has reported, are Trump's three eldest children — Eric Trump, Ivanka Trump and Donald Trump Jr. Also included in the potential
"flurry" of pardons
that may be issued in coming weeks, CNN has reported, are the President's son-in-law, Jared Kushner, and personal attorney, Rudy Giuliani, who has been pushing dubious legal battles in hopes of overturning the results of the presidential election.
Pardons for any of them or for the President himself would be preemptive, since none of them have been convicted of or charged with crimes. But all have faced various legal challenges, and at least one, Giuliani, has recently been under federal criminal investigation.
Giuliani has denied discussing a pardon for himself with Trump.
The biggest question is whether Trump will seek to pardon himself, as he faces an
array of possible legal problems
that are likely to intensify as soon as he leaves office and sheds the protections of his position.
Prosecutors have suggested in court filings that the investigation could examine whether Trump and his company engaged in insurance fraud, criminal tax fraud and falsification of business records.
Another potential case Trump faces is the possible revival of the federal inquiry concerning what prosecutors in the Manhattan US attorney's office have said was his direction to his former attorney Michael Cohen to violate campaign-finance law by paying hush money to women who alleged earlier affairs with Trump during the 2016 election cycle. (Trump has denied he had affairs with them.)
In prosecuting Cohen, prosecutors cited the President as "Individual 1" in charging papers but didn't pursue Trump himself due to an opinion by the Department of Justice's Office of Legal Counsel that says a sitting president can't be indicted.
The Biden administration's Justice Department, however, could choose to reexamine Trump's role once he leaves office.
Kushner also attended the meeting, along with Paul Manafort, Trump's former campaign chairman. Manafort was convicted of federal crimes but he did not cooperate with the Mueller investigation. He is serving a seven-year prison sentence. CNN has reported that he is among the names Trump is considering for a pardon.
Ivanka Trump hasn't surfaced in any federal investigations but her name came up recently as part of the Manhattan grand jury investigation.
The attorney general sued the committee and the Trump Organization earlier this year, alleging the committee had wasted more than $1 million by "grossly overpaying" for event space at the Trump hotel in Washington. Ivanka Trump was warned about the costs by one of the organizers, Stephanie Winston Wolkoff, according to the lawsuit. Ivanka was not named as a defendant.
Eric Trump was deposed under oath as part of a civil investigation conducted by the New York state attorney general's office into whether the Trump Organization defrauded tax authorities or lenders by inflating the value of certain assets.
Ivanka Trump's husband, Kushner, drew scrutiny for providing false information about his foreign contacts when applying for his security clearance, but President Trump issued him one anyway.
As for Giuliani, federal prosecutors with the Manhattan US attorney's office have been investigating him along with businessmen Lev Parnas and Igor Fruman since early last year in connection with their efforts to oust the then-US ambassador to Ukraine, Marie Yovanovitch, and initiate investigations by the country into Trump's Democratic presidential rival, Joe Biden, and his son Hunter.
In September, however, prosecutors brought an additional set of charges against Giuliani's associates that eliminated a reference in the original indictment to the ouster of Yovanovitch, making it unclear whether that element of the probe is still active.