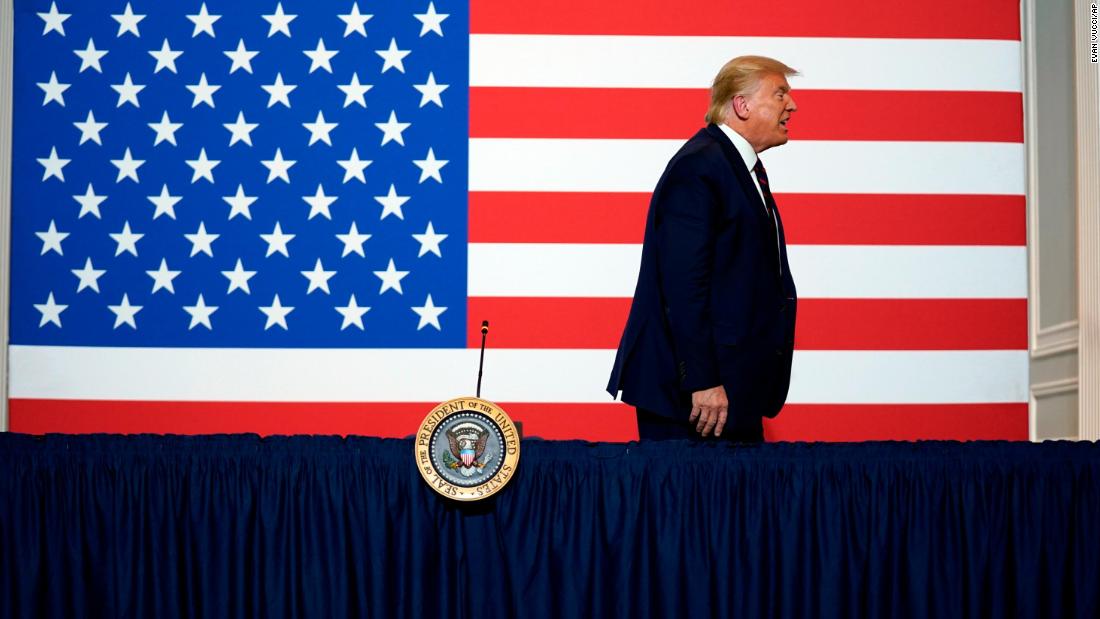 The idea, delivered in a tweet Thursday morning, was quickly blasted by commentators — even members of Trump's own party in Congress. But it did keep his name in the headlines.
Biden's big reveal
Trump's Democratic rival, Joe Biden has been running a low-key campaign from his Delaware home. It may be all he needs to win, since the polls show him well out in front of Trump. But he will have all eyes upon him very soon: the moment he picks his running mate. He's promised to decide this coming week, though the choice may be announced later.
A possible peek at his thinking came Tuesday, when an Associated Press photographer captured Biden holding handwritten notes about Sen. Kamala Harris, including the phrases "Do not hold grudges" and "Great respect for her."
Trump's beautiful suburbs
President Trump hammered at his message to suburban voters this week, promising via Twitter that "people living their Suburban Lifestyle Dream … will no longer be bothered or financially hurt by having low income housing built in your neighborhood." It's not an accident that he is taking this tack as the election nears. As Monica Hesse noted in the Washington Post, suburban women strongly disapprove of Trump's job performance.
For more on politics:
Harder times
To add to the gloom induced by the stunning drop in the quarterly GDP numbers, the extra $600 in weekly Covid-era unemployment benefits expired Friday and there's little sign negotiators are close to agreement on a new stimulus bill.
Michael Linden of the Roosevelt Institute, writing for the CNN Business Perspectives section, wrote that the conservative case against extending the $600 benefit is mistaken. Yes, some workers are getting more in benefits than they would have received in wages but that doesn't mean they prefer to stay unemployed, Linden wrote.
Dean Obeidallah said millions of Americans are depending on Congress to come to their aid.
Barack Obama and John Lewis
Obama's election in 2008 marked the start of America's Third Reconstruction, wrote Peniel Joseph. But "dreams that a Black president could prove transformative to national race relations proved short-lived. … The 2016 election of Donald J. Trump revealed the depth and breadth of racial resentment and fear among those who correctly interpreted the phrase 'Make America Great Again' as a call for a restoration of white supremacy…"
Covid-19 toll
The US pandemic death toll reached 150,000 this week, and one leading model predicts that another 80,000 people could die by November.
"There are now more than four million confirmed cases in the US," wrote Peter Bergen, "a quarter of the total number of known cases in the world, yet Americans make up just over 4% of the global population."
For more on Covid-19:
Worrying sign for schools
Kathi Valeii, who lives in Southwest Michigan, watches with some sadness out her living room window as her daughter, who's in third grade, rides her bike.
Many women are also facing an undue burden, wrote Rep. Katherine Clark, vice chair of the Democratic Caucus and Fatima Goss Graves, CEO of the National Women's Law Center. "In five short, devastating months, the coronavirus pandemic has laid bare the inequities at the heart of America's economy and our society," they wrote. "Entire workforces are being asked to sacrifice their own safety — and even their lives — to keep the economy running. Even those lucky enough to work from home are often simultaneously forced to serve as teacher and caregiver with little support, dwindling savings, and no certain timeline for when this will all be over."
Don't miss:
AND…
The message from nature
Tara Stoinski's scientific career has focused on protecting mountain gorillas in Rwanda — the "gorillas in the mist" who became famous due to the work of Dian Fossey, the zoologist after whom Stoinski's nonprofit is named. Fossey was found murdered in 1985 in her cabin in Rwanda.
"Dian thought mountain gorillas would be extinct by the year 2000, but instead, they are coming back from the brink, with their numbers slowly but steadily growing over the past three decades," Stoinski wrote. It's an example worth paying attention to, but it's also dwarfed by a larger trend.
"Human exploitation of the earth's remaining wild places, like the Congo basin, is destroying habitats at an unprecedented rate. In 2017 alone, we lost 39 million acres of tropical rainforest — the equivalent of 40 football fields each minute. We are also decimating wildlife populations, with more than one million species now threatened with extinction, according to the International Union for the Conservation of Nature," she wrote.
Destroying nature threatens to spread novel diseases, such as the one the world is fighting right now, Covid-19: "Ebola. Zika. West Nile. Lyme. HIV. These are all diseases that, like the novel coronavirus, existed in animal populations before they were able to successfully make the leap to humans. People-focused wildlife conservation provides one avenue to preserving wild spaces and stopping this animal-to-human disease 'jump.'"