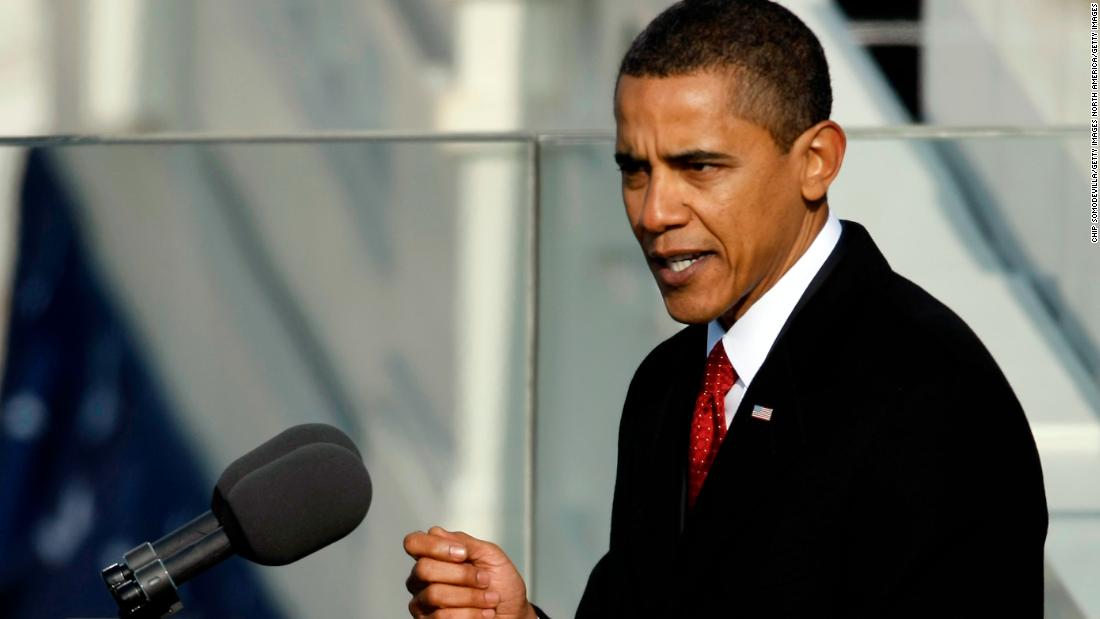 "If you believe, as I do, that we should be able to reform the criminal justice system so that it's not biased and treats everybody fairly, I guess you can use a snappy slogan, like 'defund the police,' but, you know, you lost a big audience the minute you say it, which makes it a lot less likely that you're actually going to get the changes you want done," Obama
told
Peter Hamby on Snapchat's "Good Luck America" earlier this month.
Cori Bush, who made history last month by becoming the first Black woman to represent Missouri in Congress,
tweeted
, "It's not a slogan. It's a mandate for keeping our people alive."
Jamaal Bowman, the newly elected US representative for New York,
wrote
, "In 2014, #BlackLivesMatter was too much. In 2016, Kaepernick was too much. Today, discussing police budgets is too much. The problem is America's comfort with Black death — not discomfort with slogans."
It's been 12 years since Obama was first elected, and the misguided hope ushered in by that event — that America had become a "post-racial" society — soon gave way to reality. The movement for racial justice took root during Obama's second term as thousands of Americans protested the police killings of Michael Brown, Trayvon Martin, Eric Garner, Aura Rosser, Tamir Rice and others, reaching a fever pitch this summer after another string of highly publicized incidents of police brutality.
While African Americans have consistently supported the Democratic Party in large numbers throughout this time, there's a growing segment of young Black folks and progressives from all backgrounds who have become increasingly skeptical of the piecemeal and narrow approach to addressing police brutality that characterized much of the Obama era.
Taken together with the continued police killings of Black Americans, it's no wonder that a growing constituency is calling for a bolder approach to tackle the political morass and the interlocking crises of the coronavirus, structural racism, and economic inequality.
The Breathe Act illustrates how the policing problem is racial and economic. Obama even appeared to acknowledge this in the discussion of defunding the police earlier this month. He said, "But if you instead say, 'Let's reform the police department so that everybody's being treated fairly, you know, divert you people from getting into crime, and if there was a homeless guy, can maybe we send a mental health worker there instead of an armed unit that could end up resulting in a tragedy?' Suddenly, a whole bunch of folks who might not otherwise listen to you are listening to you."
Instead of criticizing the slogan "defund the police," or casting progressive policies as unrealistic, Democrats should focus on common ground: police killings are a problem and we expect law enforcement to solve too wide a range of problems.
We've tried making reforms. But the problem of police brutality is an urgent and persistent one that requires a bold vision of structural change. And the strategy must match our vision and values. If political budgets are moral documents, then divesting heavily from institutions that have the capacity to perpetuate harms is the moral thing to do.
We must join in solidarity with and support organizations across the country that already do this work like Minneapolis's Black Visions Collective, the Detroit Justice Center, Project Nia, Study and Struggle and Survived + Punished. We can protest and push for the Breathe Act. We can engage each other in political education, have tough conversations about public safety and envision alternatives to our current system of policing. And none of this should turn off those who think incremental changes are the best we can do.
President Trump's political ascendance following the election of the first African American President proved it's all too easy to roll back reforms. While calls for body cameras or bias training might have seemed fitting five years ago, we need to forge a new and more humane approach to public safety. This is a long-term mission that transcends four-year election cycles. We will face serious opposition as long as Trumpism runs rampant. But the abolitionists of the 19th century and the civil rights activists also faced serious roadblocks in their efforts to destroy slavery, stop lynching and overturn Jim Crow.
The groundswell of support we saw this summer showed us a glimmer of what is possible when Americans acknowledge racism and police brutality as existential threats to our country. Complaining about protest demands will not get us closer to transforming public safety. Organizing, mobilizing into power and encouraging people to imagine more humane and community-based ways to ensure public safety can.