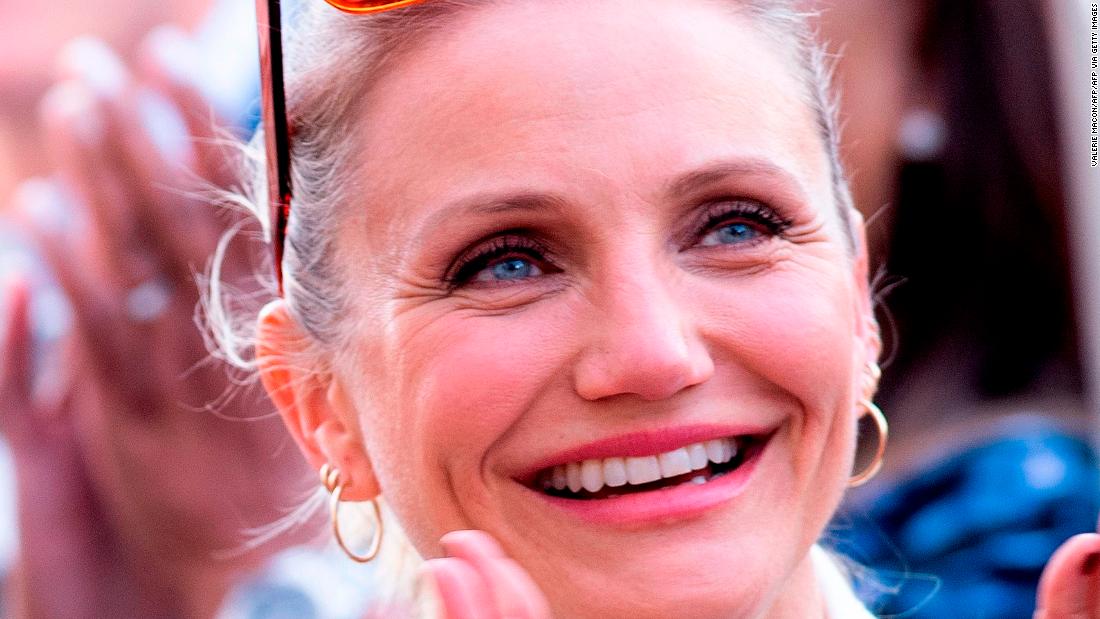 "I didn't really make any space for my personal life." She said she has now "found peace," adding that, "I was finally taking care of myself."
Diaz has in recent years shifted her attention to writing—she's authored two books—as well as building a wine business. She married in 2015 and earlier this year, became a new mom, at 47, to daughter Raddix. Presumably, her more than 20 years of success in the film business set her up financially to make that shift—to do, in midlife, what she wants to do instead of what she feels she has to.
Her story is refracted in that of fellow actress Ellen Pompeo, 50, who–also this week–revealed that she opted to stay on the popular TV show "Grey's Anatomy" for 15 years rather than pursue "more creative" roles, even as other cast members departed—and for the most pragmatic of reasons: the money, and the stability that conferred.
She explained this in an interview on the podcast "Jemele Hill Is Unbothered." "The idea that I have this great husband and these three beautiful children and a happy home life was really something I needed to complete, to close the hole in my heart," Pompeo said, referring to an unhappy childhood. There was also her late start, she said (she was 33 when she took the Grey's role, 40 when she started having kids) "so I made a decision to make money"–to be a working mother and, as she put it, "financially set."
The way these two women's stories landed in the press provides an interesting opportunity to pause and reflect on where our society is when it comes to our expectations for women.
Diaz's decision—leaving the career behind and turning to motherhood at 47—had a largely gentle reception, applause even from some, for a popular movie star who left a life-sucking (though lucrative) job to have a home and family.
But
a number
of
articles
about Pompeo's choice of motherhood
and
17 seasons spent at the same job led with her desire for a reliable paycheck—and even rated a snarky
slapdown-of-a-headline
in Vulture: "Cash Rules Everything About Ellen Pompeo Staying on Grey's Anatomy."
The idea that home should trump career is a philosophy many women (and men) share–including the 27% of American moms
who, according to the Pew
Research Center, stay at home to care for their children. Different choices, like Pompeo's, while completely relatable and necessary to many women, can still come in for an odd disapprobation.
Devon Ivie, writing in New York Magazine's Vulture, for example, focused on Pompeo's revelation with not a little contempt,
noting
the "monthly deposits" that "hit her bank account" and her "exorbitant salary." That piece also mentioned Pompeo has in the past had to defend her salary.
Damned if you do, damned if you don't … right? If you're a woman, often the answer is yes.
Why do we care so much about the decisions other women make, and why they make them? Or how much they're being paid to make them or not? (And when, for that matter, would any of us raise an eyebrow over a man who stayed at a job to make a lot of money, for whatever reason?)
That we need to pause on such questions in pop culture and in all of society reflects both the enduring hold of a patriarchy that has long set the boundaries of acceptable female behavior and ambition–and the unfortunate buy-in of plenty of women to those same strictures.
Indeed, too often women regard one another with suspicion (something I'm exploring with my fellow research psychologist Tracy Vaillancourt for a book about female indirect aggression). In both Pompeo and Diaz's case, these are women who have made decisions that worked for them at specific times in their lives–and then when they no longer worked, and when each could afford to stop making the same decisions, they made different ones.
Whether to work or not to work while parenting is a very personal decision many women face, and often both factors are pitted one against the other, as if the same woman can't want both things—to raise a family and to earn money. And yet, both Pompeo and Diaz appear to have felt compelled to offer plenty of justification for their decisions, which have received what's probably an overabundance of media attention, given the amount of "real" news to be had these days.
But guess what? Like men, women are not all the same. That notion can be hard for many people to remember. Instead, we too often tend to treat women (particularly mothers) as if they all ought to be ruled by the same motivations and responses. And, then, should they do something unexpected—something they simply want to do–we question or even condemn them for it.
With men, we tend to view the choices they make as necessary, if we bother to comment on them at all. A man works 80 hours a week? It's for his family. He pares back? Also for his family. And all good.
A woman, though—again, especially a mother–who works more than we think she "should" is often seen, even today and even if she needs to, as neglecting her family or prioritizing herself or money over all else. She may even struggle not to see herself that way.
It's an interesting contrast, isn't it.
In truth, most women will relate to both Diaz and Pompeo's decisions: They want to have control over their lives and live better lives, and especially in mid-life, when opportunities for women—and especially women in Hollywood—are fewer.
Diaz backs away to finally get what she wants from life; Pompeo leans in for the very same reason.
When we question those decisions it is usually because we're conditioned to. What if instead we considered them—untethered from our expectations– for what they are: each individual woman's choice to make? How different would life be if we supported other women, rather than questioned them, unconditionally?