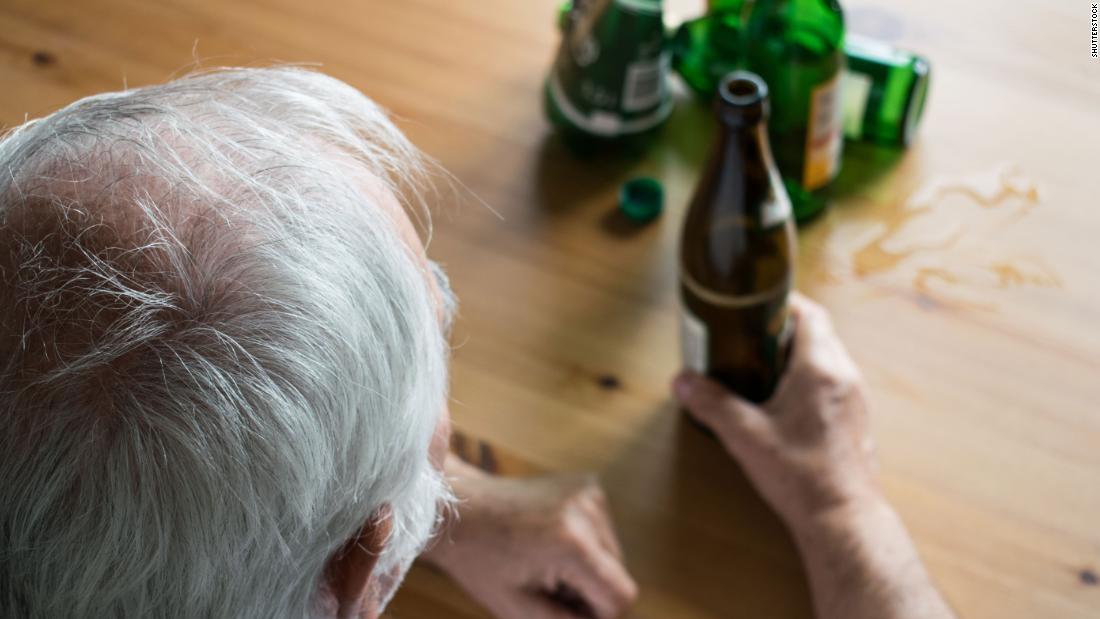 Overindulgence of food and drink is somewhat expected during any holiday season, but these are not normal times — and losing track of how many quarantinis you've had seems easier these days. While excessive drinking is a problem at all ages, heavy alcohol use is especially a concern at older ages, and never more so than during the pandemic.
More than a problem of regret and hangover the next day, heavy alcohol use
leads to harmful health consequences
, from injuries and mental illness to cardiovascular disease and death. This is especially true for adults age 50 and older, many of whom are already vulnerable to health problems, may have chronic conditions and often take prescription medications that can interact badly with alcohol.
What's more, alcohol can loosen inhibitions, potentially leading older adults to forget their masks when they go outside. In much the same way
we've seen outbreaks of STDs
linked to
alcohol use
, coronavirus, too, could very well be spreading with the help of cocktail hour.
While much worry focuses on drinking by teens and young adults,
evidence suggests
that alcohol consumption may be increasing more quickly among seniors. This trend seems to be accelerating during the pandemic,
with a jump in drinking frequency
documented in those age 65 and older. People of all ages often turn to alcohol as a coping mechanism in the face of stress and uncertainty, although this self-medication strategy does more harm than good.
In our own research, we've seen alcohol consumption increase among older adults around the world. We examined alcohol consumption among 100,000 adults age 50 and older in 22 countries and found that
drinking in later life is on an upward trajectory
in the US and 12 other countries in Asia, Latin America, and Europe, over the last 20 years. While older people are drinking more than ever in these countries, older adult alcohol use is not a uniform problem around the world — an insight that we believe can help us understand ways to address it.
In a study we just published
, we find older adult alcohol consumption at advanced ages is largely explained by how much alcohol they can afford. Older adults tend to consume more frequently and greater quantities of alcohol well into their 80s, if they live in wealthier countries with lower alcohol prices, compared to their counterparts in less affluent countries. Of course, this does not hold true for everyone. There are people who have plenty of money who do not drink, and those with very little money who find a way to imbibe. But on a population level, affordability matters for alcohol consumption.
When we think about ways to prevent the health risks of alcohol use in older Americans, this tells us that the price of alcohol is an important policy lever. A bottle of liquor can cost four times or more in Ireland than in Mexico due to taxes. Policymakers should consider raising the price of alcohol to prevent the negative health consequences of older adult drinking, together with other policy options like regulations on sales and marketing (
such as
increasing excise taxes, restricting exposure to alcohol advertising and curtailing physical availability by altering hours of retail sale) and cessation programs. On an individual level, we should keep an eye on our older adult friends and family members and their relationship with alcohol and do our part to model responsible alcohol use.
Meanwhile, the holidays are an opportunity to reflect on two reasons why older adults may be finding comfort in the bottle: loneliness and isolation. No matter how good it feels to reconnect with our loved ones, it will be hard not to experience a virtual meetup as poor substitute for an in-person gathering.
We should all reach out to the older adult loved ones in our lives with calls and video chats. Encourage them to engage in outdoor activities when possible, and in group activities that involve social interaction. It is important to look out for warning signs for mental health problems such as disconnection and fatalistic thinking, especially among those with recent losses and those who are managing other chronic illnesses or disability.
Curbing loneliness and isolation among older adults and creating opportunities for safe and meaningful social connection across generations, will be a major challenge to support an aging America that survives and thrives through the pandemic and beyond.