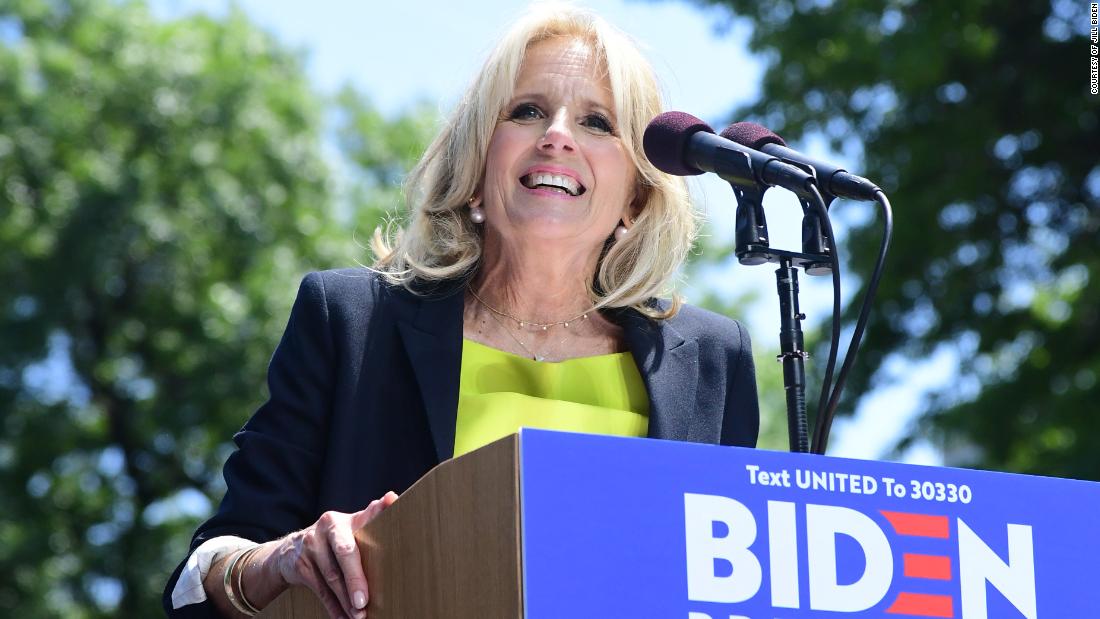 But if Joe Biden is elected, Jill Biden as FLOTUS would be different in one very simple and very fundamental way: She would keep her day job.
"That's what we'll have to come to terms with," Bush said. "Should she have a career during the years her husband is president in addition to serving as first lady?"
The Bidens have been married more than 40 years, and in that time Jill Biden has been a supportive spouse and a sounding board. This is her husband's third time running for President, in addition to his 36 years in the Senate and eight years serving as Barack Obama's VP. She has had arguably more time than any of her predecessors to imagine what she would do if she were to become the first lady.
With a position as nebulous as this one, now seems like the perfect time to reimagine it. The role of first lady is not enshrined in the Constitution, and there is absolutely no job description and no salary. Yet there are still time-consuming duties first ladies are expected to perform, like planning Christmas parties and the Easter Egg roll, and helping with seating charts and menu selection for formal dinners.
A job with no description
Between 1993 and 2017, all of the first ladies had advanced degrees. Michelle Obama and Hillary Clinton are lawyers, and Laura Bush has a master's in library science. But none of them maintained a career while in the White House. If Jill Biden continues to work, it will force us to have a national conversation we haven't seriously had before: We'd need to reconsider the traditional limitations placed on the most visible married woman in the country.
Beginning with Martha Washington, each first lady has had to interpret the expectations, opportunities and limitations of the job herself, capitalizing on her personal strengths to try to define the role.
For Washington, that meant being the presidential hostess, inviting dignitaries and members of Congress to the presidential mansion in Philadelphia because she thought it would help legitimize the new democracy.
By the time Mary Todd Lincoln moved into the White House in 1861, the term "first lady" was ensconced in the American lexicon — showing how much quiet power multiple women had brought to the position over its first 72 years. And yet, the president's spouse was still expected to only be a hostess, like Washington.
More than meets the eye
In reality, the most popular first ladies have done much more than serve as hostesses; they've humanized their husbands on the campaign trail and in office, operating more as diplomats than party planners.
It's only because we know so little about them that these women often become caricatures, either trivialized or romanticized, and relegated to being adjacent to the political sphere rather than where they actually are: right in the thick of it. In her memoir, Michelle Obama called it a "strange kind of sidecar to the presidency."
"The tale, lauding the First Lady's quick thinking in a moment of crisis, eventually found its way into American folklore through schoolbooks, monographs, and artwork," according to the White House Historical Association. "She repeated the story frequently for the rest of her life, reminding listeners of her bravery and love of country."
But concern for White House valuables was not Madison's most lasting influence, and it was not something she accomplished alone; that would be her work as a political partner to her husband, using her natural talent as a hostess to forge bipartisan relationships.
Every first lady has been underestimated by the public, and even by their husband's own advisers. Today, Eleanor Roosevelt is thought of as an activist first lady who was an outspoken advocate for women and African Americans. As the longest-serving first lady, she made the role extremely influential by holding weekly press conferences and writing a syndicated newspaper column. And she made a powerful point for racial justice when she resigned from the Daughters of the American Revolution after they refused to allow celebrated African American singer Marian Anderson to perform in Constitution Hall, which they owned.
But long before Roosevelt was appointed to the position of U.S. Representative to the General Assembly of the United Nations, she struggled to use her vast intellect for good. A member of FDR's administration said she should stay out of her husband's business and "stick to her knitting."
Seen and not heard
Over the years, a first lady's power has become too obvious to ignore. Nancy Reagan, the political consultant Stuart Spencer once said, was "the human resources department" for her husband's administration. She helped decide who would be in her husband's cabinet, and she famously helped get her husband's chief of staff, Donald Regan, fired. And unlike some of her predecessors — including Jacqueline Kennedy, who said the title sounded "like a saddle horse" — Reagan proudly put "First Lady" as her occupation on her income tax form. She had worked hard for it.
Clinton's experience taught future presidential spouses that a first lady can be as privately influential as she wants, but Americans do not want to see her revel in that influence. In many ways, we have not moved far beyond the criticism of Eleanor Roosevelt: Most people still believe that first ladies should be seen and not heard.
As the first African American first lady, Michelle Obama was a trailblazer. But it came at a high personal cost. She said that she knew from the very beginning of her eight years in the White House that she would be judged by "a different yardstick. . . . If there was a presumed grace assigned to my White predecessors, I knew it wasn't likely to be the same for me."
Obama more closely followed in the footsteps of Laura Bush than Hillary Clinton. A Princeton and Harvard Law School graduate who'd had a thriving career before her husband's presidency, she chose to highlight her role as "mom-in-chief" upon entering the White House, and her devotion to the Obamas' two daughters remained her top priority. That's one of the reasons Obama was so relatable; she was frank about the realities of balancing parenthood — a job in itself — with the duties of her high-profile position. "When people ask me how I'm doing," she explained, "I say, 'I'm only as good as my most sad child.'" And in a country that has so often sought to disrespect and diminish Black women as mothers, seeing Obama claim the mantle of mom-in-chief was also a politically subversive gesture.
The challenge of a working FLOTUS
Biden would more likely seek to blend the tenures of Clinton and Obama, who she worked closely with on issues having to do with supporting military families. And keeping her day job would be a challenge, both because she would have an incredible opportunity to make real change as first lady, and also because she would be much more recognizable than she's ever been before.
She has long sought to distinguish herself from her husband's career and carve out her own identity. She got her doctorate under her maiden name, Jacobs, instead of Biden. And later, when her husband was vice president and students signed up for her class, she was listed as simply "staff." Her Secret Service detail dressed as students to blend in. That kind of anonymity would be impossible with the added title of FLOTUS.
But no matter who assumes the role next, if history has taught us anything it's that Americans should never underestimate the first lady. They are often beloved and occasionally vilified, but they are almost always their husbands' most trusted advisers. Hopefully, the country is ready for a first lady who is many things, like so many women in this country: a professional, a mother, a wife, and a grandmother. After all, a job with no set definition should be open to change.