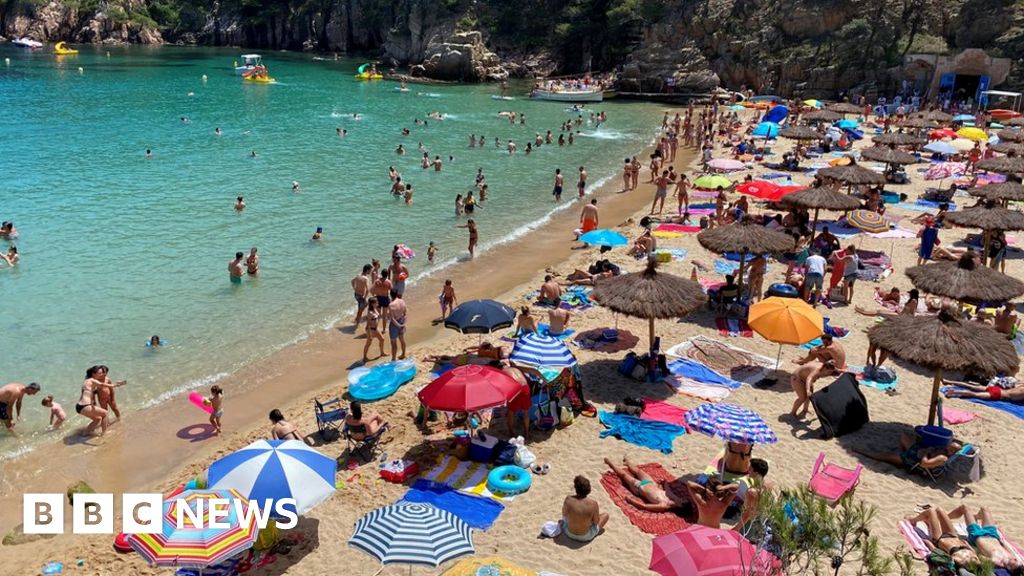 Travellers entering the UK from Spain and Luxembourg must now self-isolate for 14 days.
They have been removed from a government list of countries exempt from quarantine rules, with further changes possible.
Arrivals from Belgium, the Bahamas and Andorra will shortly have to do the same.
What are the rules for Spain and its islands?
Travellers arriving in the UK from anywhere in Spain – including the Canary and Balearic Islands – must self-isolate for two weeks.
The government is advising "against all but essential travel to the whole of Spain".
Travellers arriving into England, Wales, Scotland and Northern Ireland are all affected.
What other countries are affected?
Arrivals from Belgium, the Bahamas and Andorra will be subject to a 14-day quarantine from midnight on 6 August in Wales and from 04:00 BST on 8 August in England, Scotland and Northern Ireland.
Transport Secretary Grant Shapps said the decision was taken after reviewing new data.
Last week, Luxembourg was removed from the list of exempt countries following a "consistent increase" in Covid-19 cases in the country.
What are the quarantine rules?
Travellers from affected countries – including UK nationals –
are asked to provide an address where they will self-isolate for 14 days. They can be fined £100 for failing to fill in a form with these details.
One in five eligible passengers will be called or texted to check they are following the rules.
People who do not self-isolate can be fined up to £1,000 in England, Wales and Northern Ireland and £480 in Scotland. There are fines up to £5,000 for persistent offenders.
Passengers should drive their own car to their destination if possible. If they don't provide an address, the government will arrange accommodation at the traveller's expense.
Once at their destination, they must not use public transport or taxis during the quarantine period. They must also not go to work, school, or public areas, or have visitors except for essential support.
Nor are they allowed to go out to buy food, or other essentials, if they can rely on others.
People returning from overseas will not be automatically eligible for statutory sick pay during this period, unless they
meet the required conditions
– for example, displaying coronavirus symptoms.
Which countries won't have to quarantine?
Anyone arriving from the Common Travel Area (CTA) – the Republic of Ireland, the Channel Islands, or the Isle of Man – does not have to enter quarantine, if they have been in the CTA for at least 14 days.
Brunei and Malaysia will see the requirement to self-isolate for arrivals into England and Wales removed from 04:00 BST on 11 August.
Which workers are exempt from quarantine?
Road haulage and freight workers
Medical and care professionals providing essential healthcare
Seasonal agricultural workers if they self-isolate where they are working
UK residents who ordinarily travel overseas at least once a week for work
Do other countries have quarantine rules?
Travellers could find they also have to enter quarantine when they arrive in another country, even if they do not have to quarantine in the UK on their return. Some countries have introduced screening measures
like temperature checks, and entry restrictions
. For example:
New Zealand has barred almost all foreign travellers
Australia requires an exemption visa if you are not a resident or a citizen and everyone entering the country needs to quarantine for 14 days
South Korea requires all arrivals to be tested and to isolate for 14 days
Adult visitors to Iceland can either pay for a test or go into quarantine
Anyone who has been in the UK in the previous 14 days is not currently allowed to enter Japan.
Are you planning to travel to or from the UK? How will the quarantine regulations affect you? Share your experiences by emailing
[email protected]
.
Please include a contact number if you are willing to speak to a BBC journalist.