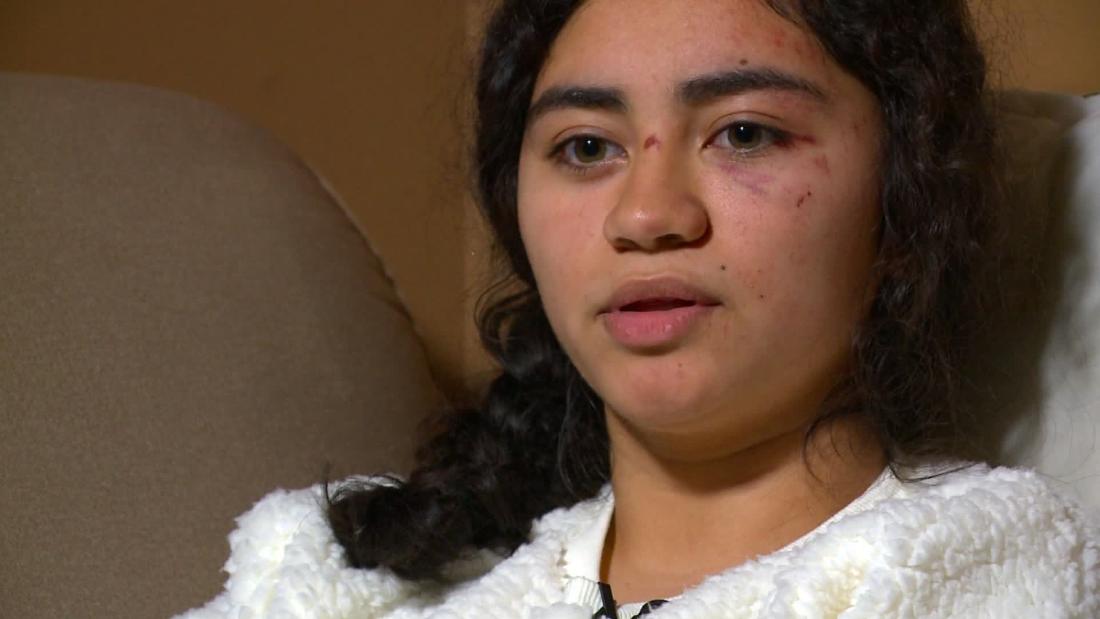 A SUV ran over the 14-year-old a few weeks before Christmas last year. She says she was walking the two blocks between her home in Clive, Iowa, and her junior high school to watch a basketball game.
"Her intention was clear … because she looks Mexican," Natalia's father, Cesar Miranda told CNN, referring to what the driver told police.
In the year following a mass shooting at a Walmart store in El Paso, Texas, multiple attacks targeting Latinos and immigrants have taken place across the United States.
The case remains pending in Polk County court. CNN has reached out to the public defender representing Poole Franklin but has not heard back.
Since the incident, Natalia and her family said they have constantly battled with anger, fear, and the teen's mental and physical recovery.
Natalia has dreamed more than once that the same SUV returns and "runs over in her upper part of her body like it's going to finish her up," said Dalila Alonso Miranda, the teen's mother.
While the state case remains pending, Natalia's family is calling for federal hate crimes charges to be brought against Poole Franklin.
"If you don't charge someone with a hate crime when they tell you that that's why they did it, then when will you?" Alonso Miranda said.
More hate crimes reported, less federal prosecutions
Bias against Black or African American people overwhelmingly comprises the largest category of reported hate crime offenses pertaining to race, according to the FBI data.
In the past few months, more incidents involving Asians and Black people were reported than in the previous two years, Levin says, but it doesn't mean the anti-Latino sentiment is gone.
"We have ticking time bombs across the country and we don't know who they're going to hit exactly but we know who they hate," Levin said.
Gerstenfeld, whose primary field of study is hate crimes, said there could be more incidents that remain unknown to authorities because victims don't feel comfortable reporting them.
"Hate crimes in general don't get reported to the police very often, but particularly with some communities of victims. Latinos, especially if they're undocumented or they have poor relationships with police, are not going to report them," Gerstenfeld told CNN.
'We are in America, we don't speak Spanish here'
The mother, Vasquez, said that when one of the women approached her, she asked her daughter to translate and the woman began yelling at them and assaulted them. CNN is identifying the mother by her last name for privacy and security concerns.
"She yelled, 'We are in America, we don't speak Spanish here, speak English!,'" Vasquez, 46, told CNN. The mother did not identify which one of the two women yelled at her.
During the altercation, Vasquez said she was bitten on her right thumb and hit multiple times while her daughter was punched in the face multiple times and pulled by the hair.
Two women — Jenny Leigh Ennamorati, 25, and Stephanie Armstrong, 25 — were each charged with two counts of violating constitutional rights with bodily injury and two counts of assault and battery charges, the district attorney said. Both cases have probable cause hearings scheduled for September.
They told police they heard the Vasquezes laughing and speaking Spanish and believed they were making fun of them, according to a police report, which redacted the women's names but they were later released by prosecutors.
CNN has reached out to an attorney representing Ennamorati but has not heard back. William J. Barabino, an attorney representing Armstrong, said video recorded by a bystander and the "accuser statement" shows that his client "never laid a hand on anyone."
"Eventually, she went over to the physical dispute and can be seen extending both arms in an effort for all to calm down. That isn't a crime and we expect that a judge or a jury will eventually reach that same conclusion," Barabino said in a statement emailed to CNN.
The incident has haunted Vasquez since then. For weeks, she says her daughter would wake up scared and crying at night and constantly asked why anyone would treat them like that. They have been mostly at home since the incident because of the pandemic and her daughter has been talking with a counselor but Vasquez is concerned about how she would interacts with more people when classes resume.
Fear may have kept many other victims silent, Vasquez says, but she can't let hatred and bigotry go unpunished. Even after the Vietnamese restaurant where she worked closed due to the pandemic and she struggled to find another job for nearly four months, she hasn't stop talking with others about the incident and working with her attorneys.
"There's Asians, Latinos, everything in this country and still others haven't understood that we deserve the same respect than people who were born in America," Vasquez said.
CNN's Rebekah Riess and Gregory Lemos contributed to this report.